It's finally becoming a bit more like Spring! It was a beautiful sun shiny day today, and I had a wonderful brunch with some other blogger ladies, and then did some shopping. I wore this outfit last week, but I think it suits the nice weather we had today!
The main feature of this post are my new green pants. They're actually a cheapo brand from The Bay called Material Girl, which is apparently made by Madonna. Pretty neat. Some of her things are actually quite wearable, like these pants, and the prices are very reasonable as well, ranging $15-$40. These pants, which come in a myriad of colours, were only $29.99, and I had a $15 coupon, making them only $15.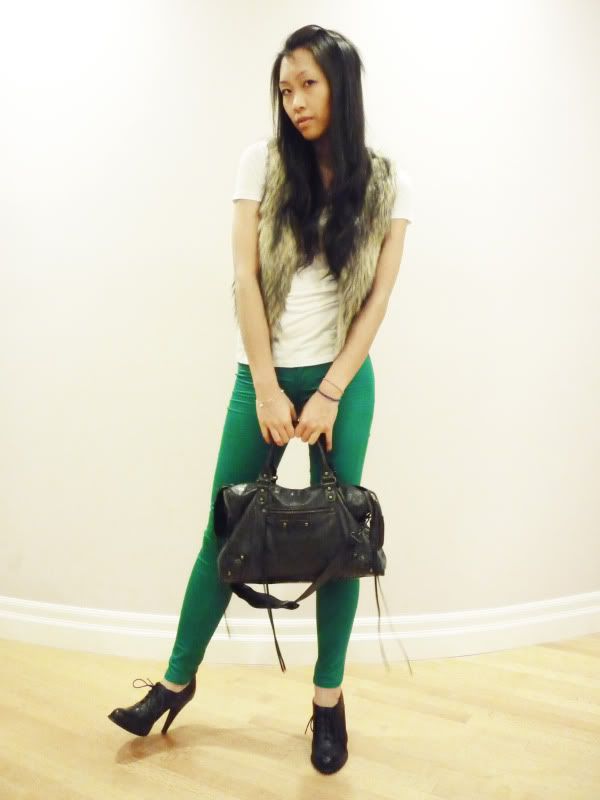 H&M fur vest; Dynamite V-neck Tee; Material Girl coloured skinny (here); Balenciaga; Aldo 'Falge' booties (here)
The fit of the size 1 is quite nice. Material Girl sizing seems to be pretty standard. I found it didn't have the 'vanity sizing' effect like other department store brands. These pants have a decent amount of stretch, and conform to my body quite nicely. Doesn't flatten my bum, and the waist is just right.
I wish the length was a little bit longer, but these are considerably longer than my coloured J Brand's, which look truly cropped on me. Since these go right above my ankle, I don't even have to fold them up and they look fine.
The back pockets are a flattering shape, and are not too high or low on the bum. Back pockets that are too high can flatten out your bum, and back pockets too low can shorten your stature and make you look like your pants are falling down. Good thing these pants don't do either of these things!
For a cheap pair of coloured skinnies, I urge you to check out Madonna's Material Girl line at The Bay. Their current collection has a lot of bold, bright, and fun colours perfect for the Spring season. If you're in to colour blocking at all, Material Girl can be a good, inexpensive place to start trendsetting!