If you follow me on
twitter
or instagram, you'd know that I picked up some great pieces from the
Plen+y warehouse sale
I posted about on Thursday. I thought we'd take these new additions out for a spin today since it was such a bright sunny day! Only a couple shots of me today, but the real model today is
Ricky
.
I've accumulated an outfit for him throughout the past couple months so I got him to model for me. He's wearing the Standard Issue jacket and Scotch&Soda shirt I got for him at the
Plen+y sale
, J Brands from a J Brand sample sale from
bigtime clothing
, and DC Life shoes from my last DJ Premium haul. I know he secretly enjoyed modelling despite his reluctance, hah!
I guess this will be a Gentleman's post! :)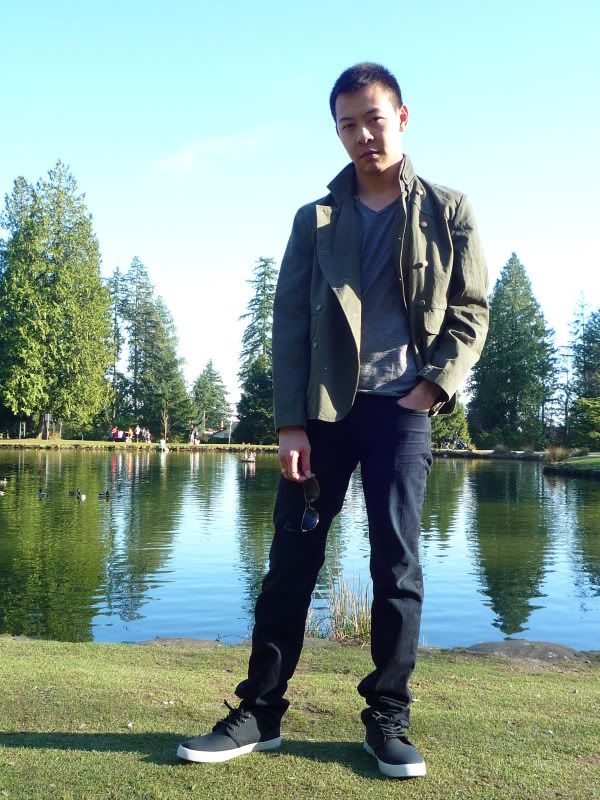 Standard Issue jacket; Scotch & Soda Double Layer V-neck Tee (here); J Brand 'Johnny' in black (sample);
DC Life Studio Rubber Coated Suede Sneakers (here); Ray-Ban Bubble Wrap Aviators (here)
The J Brands look great on him! The Johnny cut is a slim, slightly tapered leg, which gives a nice stacking effect. The black wash is minimally distressed, so that they can be dressed both up or down. I just hope they don't fade over time.
It was pretty hard trying to get Ricky to wear this jacket. He's a very jeans-tee-hoodie type of guy and will NOT deviate at all. Even though he's essentially wearing what he usually wears except in different colours, he said it was very 'not him' because his jeans were black and he wasn't wearing his usual bench jacket or a hoodie. I like that it can be buttoned both on the left and on the right depending on your preference because the holes and buttons are situated on both breast panels. Sexy!
The shoes impressed me the most. I didn't know DC made shoes this nice! They weren't skater looking at all, and totally suited Ricky's style. The best thing is that they're rubber-coated leather, so you get the softness of the leather but the water proofing of the rubber. Cool eh?
Finally, my outfit. I'm wearing the Monk & Lou cardigan I got from the Plen+y sale. 100% wool definitely has its perks! Today was the first day I went out without my giant parka / equal weighted jacket. Hurray!
Monk & Lou wool cardigan; Ann Taylor tank; TCEC leather shorts (here); Seduction leggings;
Pour La Victoire 'Lennox' booties (here); Hidden Balenciaga