Got some new goods! Another blouse from my last
DJ Premium
haul, as well as new boots from my latest
Bluefly
haul.
This outfit I wore last week to work, and it was the BB Dakota Damia blouse is the comfiest thing ever! It has Dolman sleeves, which I find keeps me much warmer than regular sleeves for some reason. The blouse also made out of the softest cotton and flows off my shoulders quite well. I especially like that the sleeves are full length; a lot of dolman sleeve clothes have 3/4 or 1/2 length sleeves but full length is much preferred. There's also big pockets on the front that are more for form than function, lol. Ricky thinks the top makes me look boxy, but I think it looks just right :)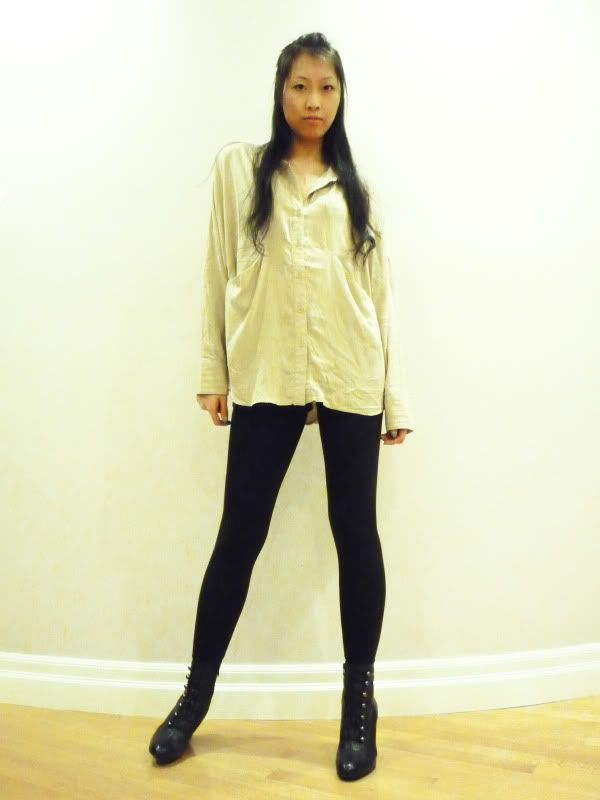 BB Dakota 'Damia' blouse (here); t.cec leather shorts; Seduction leggings; Pour La Victoire 'Lennox' booties (here)
I caught the best sale ever at
Bluefly
- everything was marked down to $29.99 regardless of the starting price. I was so sad I came late to the sale because there was everything from Doir shoes to YSL boots all marked down to $29.99. I was flabbergasted!!! Needless to say they were all gone before I got there. But I was not going to walk away empty from the sale, so I got myself 4 pairs of shoes, 3 tops and a belt.
Of which were these booties. It's the Lennox bootie by Pour La Victoire. Originally $300, I got these at a fraction of the price at $29.99. And boy was it the best decision ever.
Softest. Leather. Ever. Easily my new favourite because it's leg lengthening, super comfortable, and easy to walk in. Despite the 4 inch heel, you can barely feel the height because it has a wedge heel, making balancing a breeze. There's also a very padded sole so your foot bed gets ample cushioning. It's also no surprise that I love the military detailing in the front :)