For the past week, I haven't felt like brogging. Probably because I'm still healing from my fall, but also since it's been crummy weather. I haven't been entirely creative either because work has been sucking all the juice out of my system. Working OT this whole week. But! I did manage to get one outfit post out when I went out for Mac n' Cheese with my favourite people,
Ricky
and
Emi
.
My mood totally changes the way I dress. When it's ugly outside, I always feel so blah so I try to dress as warmly and comfortably as possible without looking like a bum. And that's when I grab my gigantic Old Navy sweater. Scarves are another go-to item I love to just throw on before I go out the door.
Also featured in this post are my new brown ORLENA boots from Aldo. Remember how I bought the black ones
here
? Well it was so hard to resist getting the brown leather ones too during their last big sale when they're under $30! This time I laced them loosely all the way up and they're still just as comfortable and cute.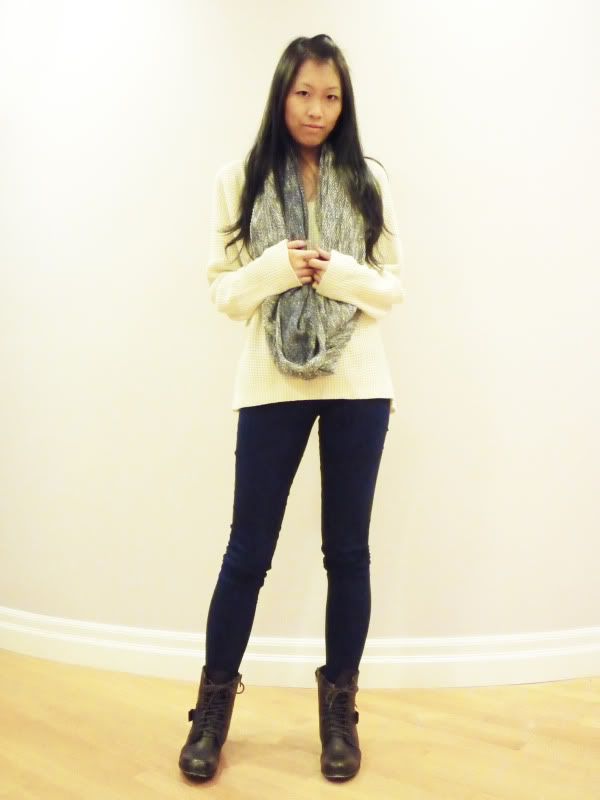 Old Navy waffle-knit sweater (here); American Apparel blue salt/pepper circle scarf (here);
J Brand twill skinnies in Nightfall (here); Aldo 'Orlena' boots (here)