Last week, my friend
Karra
posted a preview photo of this toast box on
her twitter
, I was DETERMINED to get my hands on one.
Turns out, I got my hands on 5 of them!~
Flo Tea Room
was having a Valentine's Day special that ran from February 10th to 19th, featuring toast box combos for under $15.00. The combos came with one giant toast box of your choice, and 2 bubble tea drinks- perfect for a dessert date! Also, throughout the promotion, they gave out stamp cards where if you try all 4 flavours of toast boxes you get the 5th one free!
I had the luck of going with a whole bunch of my friends each time so we got to try more than one toast box at a time :) So no, I didn't eat all of these by myself!!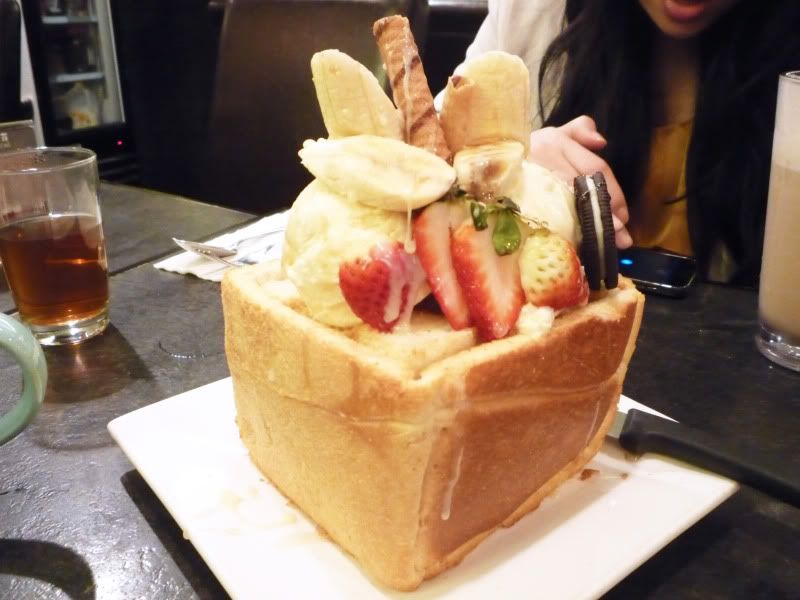 Stawberry & Banana Toast Box
Matcha & Red Bean Toast Box
Chocolate and Nutella Toast Box
Original Toast Box (Chocolate, Strawberry or Caramel) - We chose strawberry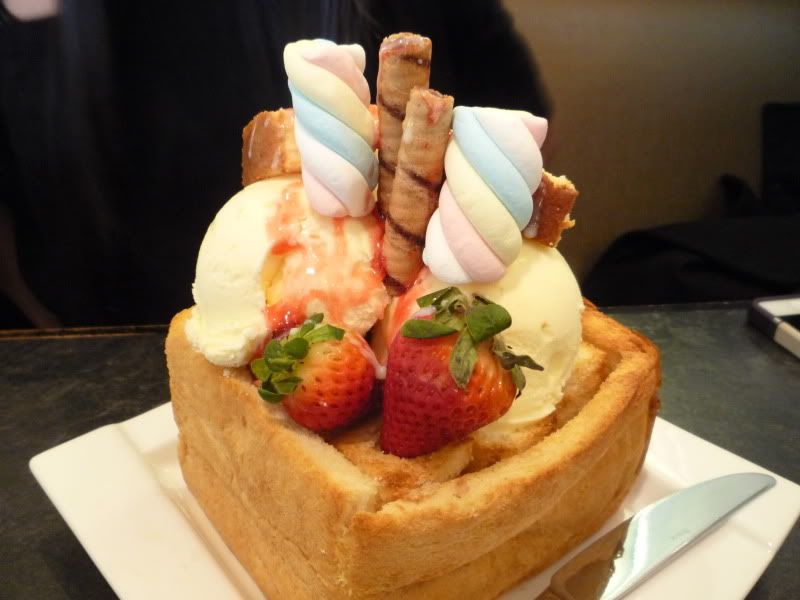 Strawberry & Banana Toast Box (for free!)
All the toast boxes were delicious! This is really my kind of dessert because it wasn't too sweet at all. I can't handle desserts that are too rich and sugary (ie. fudge). Most of the sweetness on these toast boxes came from the ice cream on top and some powdered sugar on the columns of toast on the inside. The toast box crust was crunchy all the way around- that was probably my favourite part.
I'm a huge fan of green tea ice cream and red bean desserts, so my favourite was the Matcha & Red Bean toast box. On top were two scoops of matcha green tea ice cream, and underneath was a spread of red bean all over the top portion of toast. To top it off were some wafer sticks, strawberries and oreo cookies!
Nommers Beware: These toast boxes are super filling! I can share one between 4 people for dessert after an average sized meal. Don't even attempt this if you're full!
Though the combo promotion is over, I believe the Original toast box is a permanent addition to their menu. The regular price is $7.50, which is the cheapest I've seen in Vancouver, compared to What8ver Cafe ($9) and 0755 Lounge ($10).
Flo also added this fun new photobooth thingy at the entrance! How do I look with a mustache?
If you want, you can also follow
@flotearoom
on twitter! They always tweet about upcoming promotions :)