I promised you I'd show you the new red pieces in my wardrobe yesterday, so here's the second item! J Brand Red Twill Skinnies! These aren't really new per se... they actually used to be
Emi's
- but they're mine now! They were a bit too big for her but they're perfect for my butt!
I wore this outfit out to
Matsuyama
for dinner with
Ricky
the other day. He dropped me off to get a table first while he went to look for a parking spot, so I went to the host and asked for a seat for 2. The usual host nodded and said, "Okay, 2". However...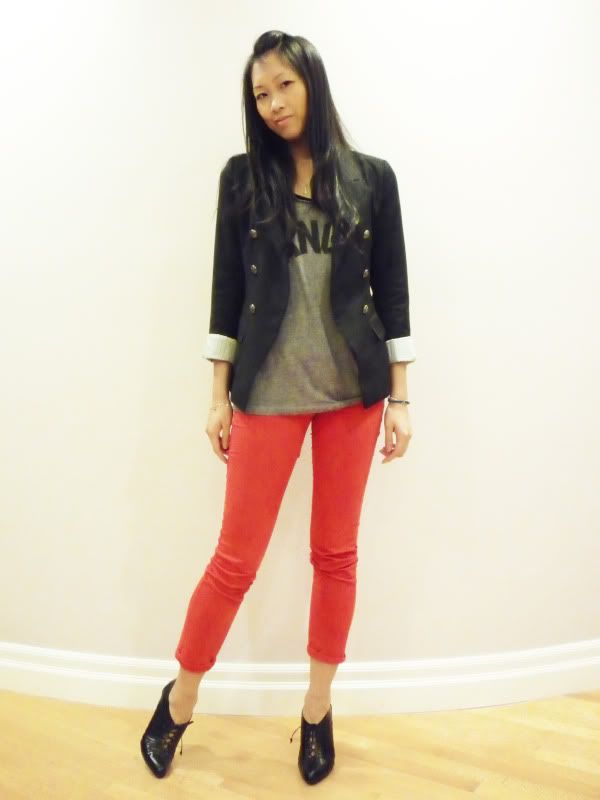 Yesstyle Cocostar / Mak Mak blazer (here, similar); F21 tank top; Rebel Yell 'DANGER' tee (grey, pink);
J Brand red twill skinnies (here); Christian Louboutin 'Inverness' booties
More people came in, but for every person after me he asked for their name along with how many. I thought,
Oh this is weird, he didn't ask for my name to put on the list...
But I just played on my phone until Ricky came into the restaurant. I told him that the host didn't ask for my name, so Ricky peeked over at the list and saw... "TALL GIRL IN RED PANTS [for] 2". We laughed so hard! The host was so surprised and embarrassed at the same time :)
Way to stand out eh? Hahaha.