Who said pastel colours don't work with bright colours? Without anything else on, this XL Old Navy sweater already swallows me whole! Therefore, I really wanted to wear some super bright shorts to counteract the sheer amount of fabric this sweater had. It also gives a nice peekaboo if I don't tuck in the sweater which makes it super cute when you're walking~
I didn't know what jacket I wanted to wear at first, but I was pretty set on a leather jacket. To my surprise, this lobster
Muubaa
leather jacket totally worked! I'm thinking it's so pale that it almost acts as a neutral tone, so funny enough the lobster and teal complemented each other.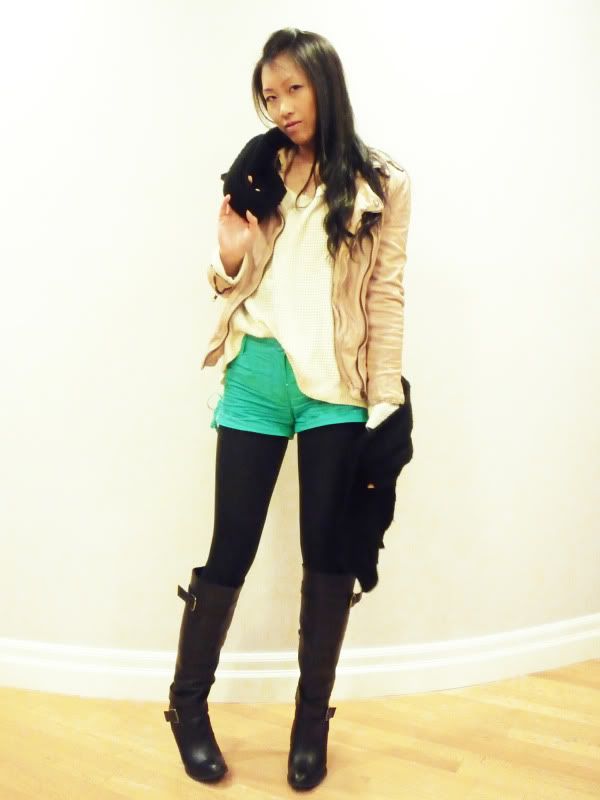 Muubaa 'Athena' biker in lobster (here); Old Navy waffle-knit sweater (here); Yesstyle knit scarf (here);
H&M teal shorts (old season); Seductions leggings; Aldo 'Doiley' boots (here)
The only thing about wearing bright shorts is that it draws attention to your crotch, lol. But otherwise, I really like using shorts as my peekaboo of colour :) Make sure that if you are wearing a bright piece, pair it with neutral colours so it doesn't overwhelm the outfit.