I was in the lunch room at work this week and one of my male coworkers showed up wearing a chambray shirt. I jumped for joy inside! You don't find many engineers that are trendy and chic, so it's a pleasant surprise seeing him in nice outfits everyday! I definitely need him to guest star in some of my photos sometime so you guys can see! So, because of his shirt, I wore my chambray genie pants out to play today :)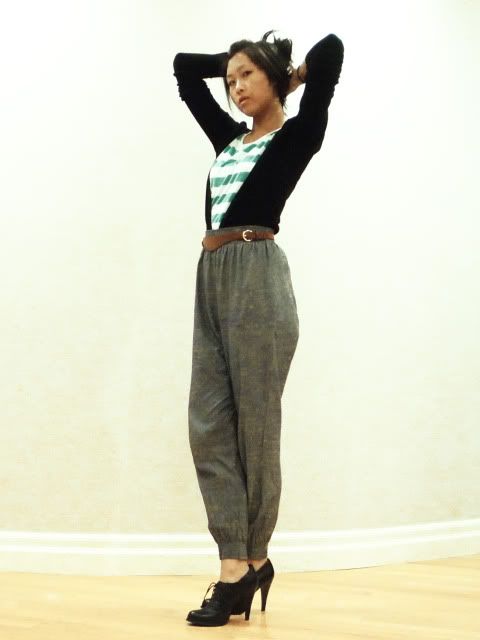 Urban Behaviour cardigan; H&M striped shirt (similar); H&M belt;
American Apparel chambray jumper pants (here); Aldo 'Falge' oxford booties (here)
On a side note:
Would you wear clogs?
There was a period of clogginess back in Fall of last year and I always thought they were horrendous. I stumbled upon a pair of uber clogs during a quick run to Winners yesterday just before my movie started. They were super duper discounted... so... dare I try them on?
SURPRISE GIF!
I was clicking through my pics and found these hilarious jumping back and forth so I made it into a gif, lol!
BOOYA! They were the comfiest things ever (probably because they're Vince Camuto) but sheesh are they ugly! My boyfriend joked that he would break up with me if I wore these out with him, LOL. It's safe to say I didn't pick them up. Even at $10. And leather too!