Everytime I wear this blazer it reminds me of naval uniforms. You know what I mean? All I'm missing is a sailor cap and I'm all set. Think
SNSD
anyone? Perhaps it's all the buttons and the angled cut of the front. The pockets are also angled downwards that gives a nice spin off the traditional blazer.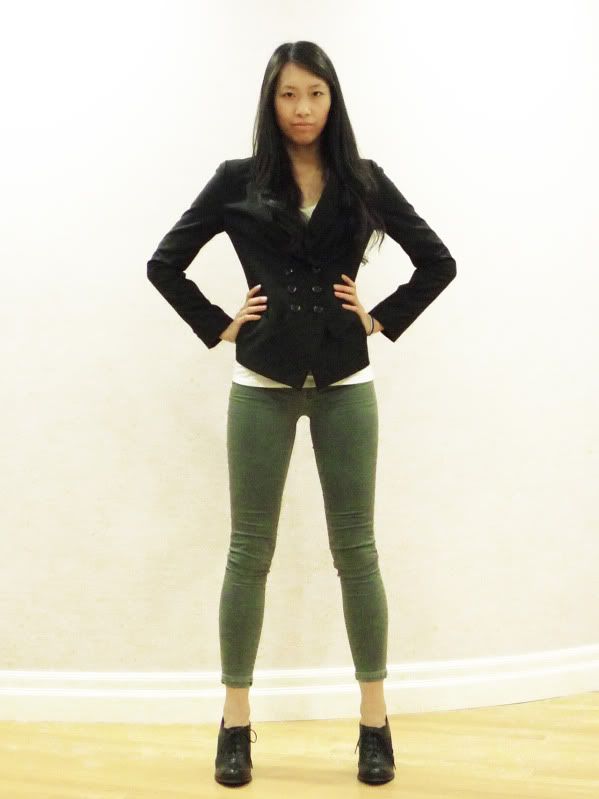 Yesstyle Cocostar blazer; Dynamite v-neck tee; J Brand sateen leggings in vintage olive (here);
Aldo 'Falge' oxford booties (here)
Wearing a simple white v-neck t-shirt underneath, even Ricky would approve since he's the official cheerleader for all things v-neck! Pretty sure he loves them with a passion. More than me. *gasp! To counter the monotone colour scheme on top, I wore my vintage green J Brand leggings to give it a magical pop of colour.
All in all, this outfit can totally be replicated with colour substitution.
I could swap out my green J Brand's for my blue ones (
here
), and switch my black blazer for my grey one and you'd have an entirely different outfit (
here
)! I'm pretty big on the colourful denim trend; as you've seen here, I have a pair of green ones, blue ones and aubergine ones, all by J Brand. I have my eye on a pair of engine red ones and bright blue ones still on my wishlist since those
Old Navy ones
didn't work out for me.
Are you guys loving the colourful denim trend?