Just the other day I was thinking I should get some high waisted shorts. When I went to H&M to return some things, I spotted these electric blue ones! If I'm gonna get some high waited shorts, why not go all out and get some faux-leather electric blue ones? I love that they're so different. I wore the shorts to my friend's party this weekend and a couple people started petting them cuz they're really soft!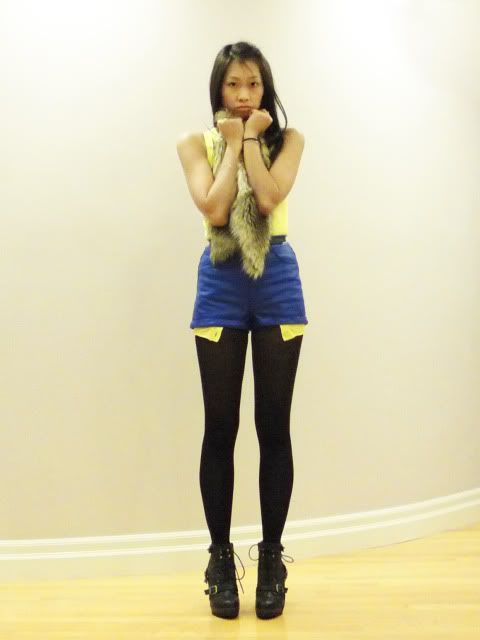 H&M fur vest; Urban Behaviour sleeveless cardigan (old); F21 tank (old); Anna Sui tights;
H&M electric blue faux-leather shorts (similar); Qupid 'Revive' boots (here, similar)
For some reason, these shorts fit really small. I'm usually a 4 in H&M bottoms (36" hips), but I had to go up to a size 6 in these. The size 4 was really tight around my bum and nobody likes shorts too tight ;) The size 6 was kinda gapey at the waist, but I fixed that with a simple belt. If you want these shorts, I suggest you size up :) Also, since they're not on the H&M website, the price was $29.95 and they are part of the Divided section. With the
$10 coupon
it's quite affordable.
I paired it with my faux-fur vest to give the texture some contrast :) The electric yellow vest is actually a sleeveless cardigan that I tucked in. It's long, but I like that it sticks out on the bottom. It reminds me of those jean shorts with the oversized pockets.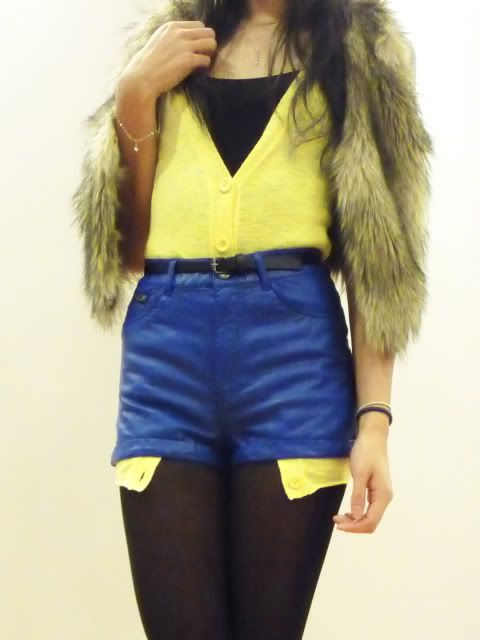 Closeup
Note to self: Don't have Korean BBQ when you wear faux-fur. The smell won't come out for days! XD