Super simple outfit today. So simple, yet so minty fresh. When I saw this blouse on
Wholesale7
, I was instantly drawn to the mint green colour. This pale soft green is so easy on the eyes, and instantly brightens up my mood. When I first put this outfit together, I was originally intending to tuck the blouse into my skirt. After playing around with it for a bit, I decided to tie it on top instead. I really like the result. I didn't put on any accessories either, to keep this look simple.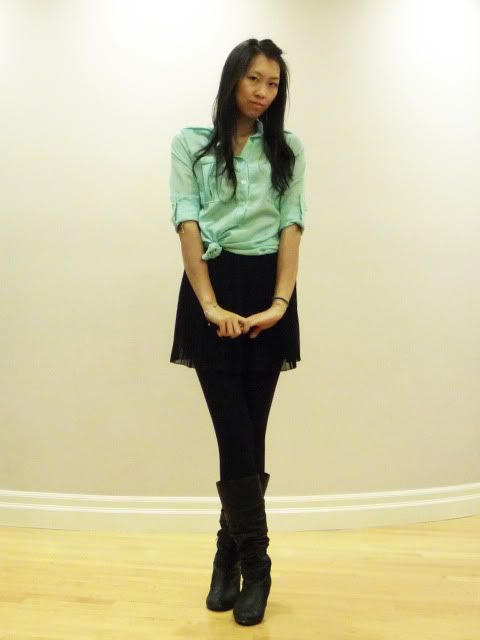 Wholesale7 chiffon minty green blouse (here); Lily White pleated skirt from Nordstrom Rack (similar);
Seduction leggings; Jessica Simpson 'Capry' boots (here)
Can you believe I got this pleated skirt at Nordstrom Rack for $4? I've featured it in another outfit
here
. I had no idea what the brand is at the time, but for $4 I couldn't pass it up. I looked up the brand last night- Lily White. They don't have an online store, only a lookbook, but Nordstrom does sell this brand. Some of their pieces are very cute! You should check them out :)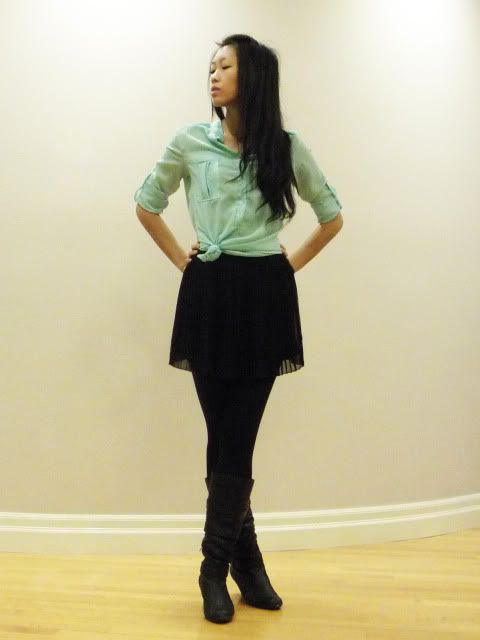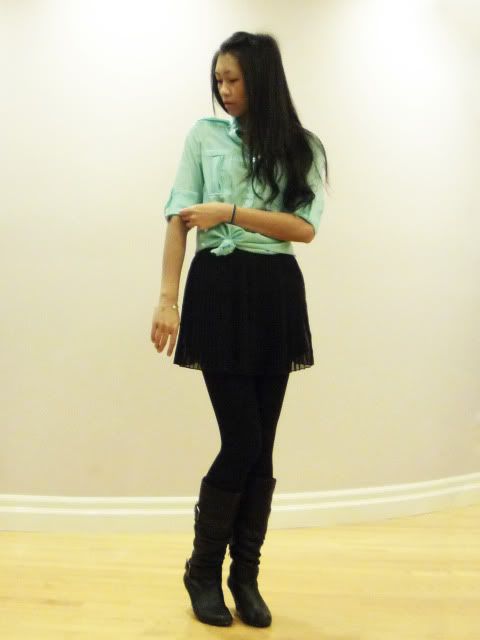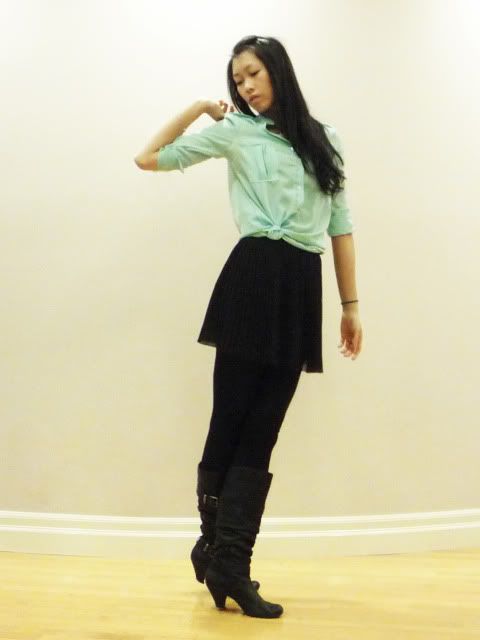 My half-stretching pose. I was actually stretching when my timer went off and I tried to save it lol.
Close-up
You can't tell in this post, but the boots I'm wearing in this outfit definitely need some TLC. I've worn these boots so much that the entire sole on the heel is worn down to the metal and makes that annoying 'click clack' when I walk.
Anyone from Vancouver that can recommend me a good cobbler? I don't want to throw these away because they still have so much wear to them! MY mom would tell me to chuck them... but I'm such a hoarder :P Anyway, I look forward to hearing from you guys :)