Oh my oh my oh my. That's what I thought when I touched these pants. I was rendered speechless. What material is this? Why does it feel this way? "TOUCH THIS!!!" I demanded of my friends. They do not look AT ALL like how they would feel.
They're smooth, silky, almost suede-y, but not really. A touch of velvet, but feels almost like tarp or tyvek. See? The descriptions aren't getting much better. They're just MAGICAL. Yes, magical. I'll leave it at that. Feel free to touch me when I'm wearing them and prepare to be amazed.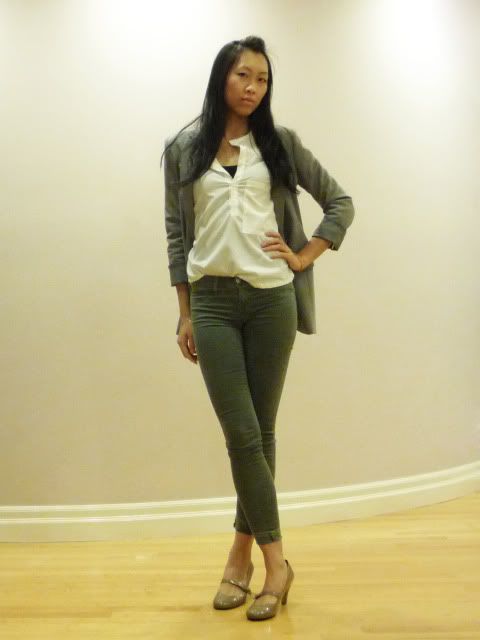 Talula Babaton wool blazer; Wholesale7 chiffon tunic (here); F21 tank;
J brand sateen leggings in vintage olive (here); Aldo maryjane pumps (old)
This white chiffon tunic, another find from
Wholesale7
, is light, airy, and perfectly loose. It is not collared, but has whimsically flappy lapels that you can button closed. I liked to keep it open and wear a black tank top underneath because it is a little sheer. There are wonderful slits on the sides, which I LOVE because I can tuck in the front and keep the back untucked without it looking awkwardly bunched at the sides. You know how that happens.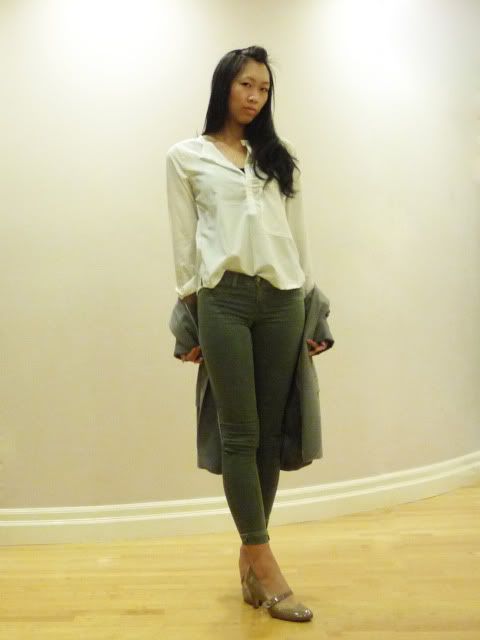 Slowly becoming less clothed as you scroll down.. D=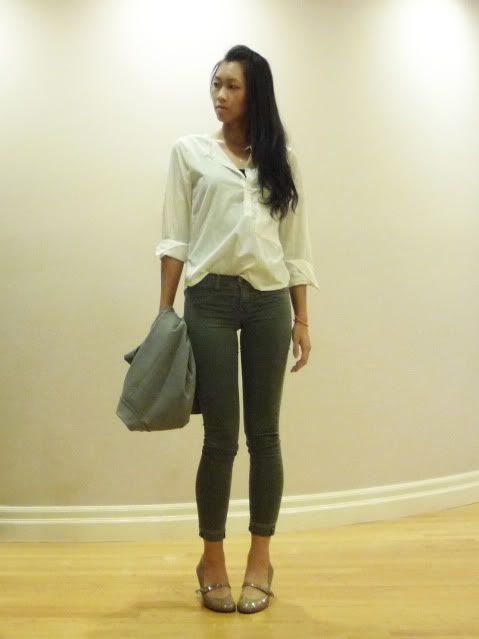 Case and Point: perfectly loose-fit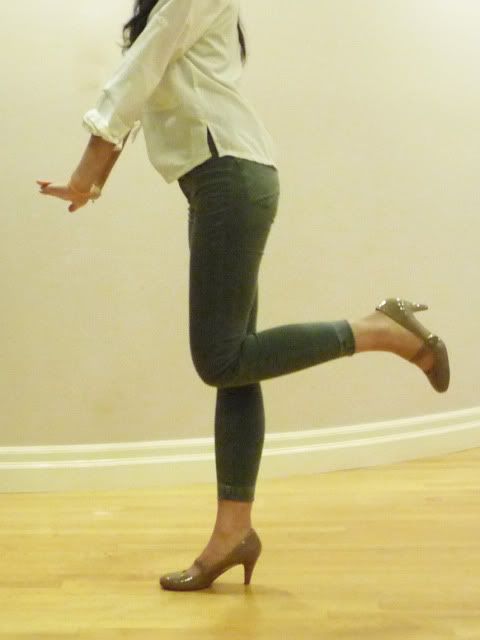 These are probably the shortest heels I own
I totally did a 'Run Devil Run' pose before this... haha. Alas I didn't post it because I'm too tall to be dancing like SNSD :( I opted for a more pin-up girl kinda kick. Did my calves get smaller? Nah, Too good to be true. Probably just the sateen leggings working its MAGIC.
PS. In case you were wondering, I totally photoshopped the thermostat and electrical outlets out of my walls. Looks much better right? :)