I've been looking for leather shorts for the longest time, and I'm SO glad I got these t.cec ones from TOBI a couple weeks ago. Though they are only faux-leather, they are the softest things my hands have ever had the luxury of touching. Ya feel me? I know you want to. On top of that, this teal Ellison blouse, is as light weight and as soft as silk. Like touching a baby's bottom. Ya, smoooooth.
I hope you liked my play on words, my Canadian french/english bilingual friends ;) I thought it was pretty punny :D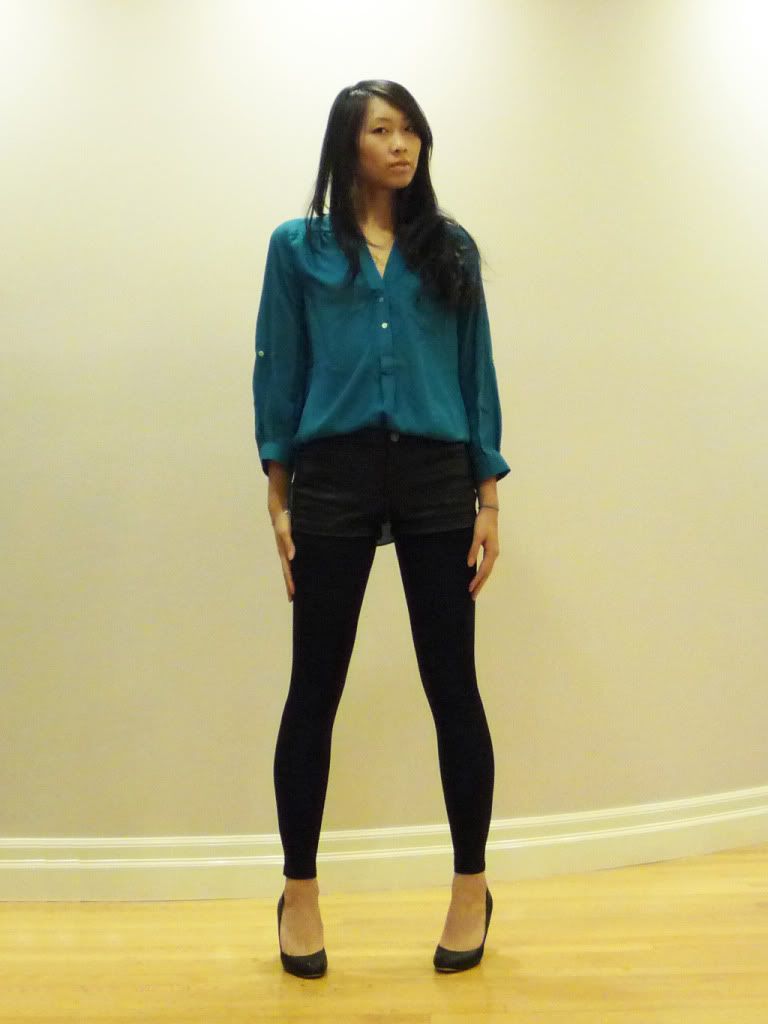 Ellison Sleek & Chic blouse (here); t.cec Under The Leather shorts (here)
Seductions leggings; Ann Taylor Perfect pumps (here)
I simply adore this blouse. It just feels so.. feminine. I love that it is super long as well, which is great of long-limbed ladies like me. The sleeves are supposed to be 3/4-length (perfect!) and have an inner tab that buttons up the sleeve so keep it at a 1/2-length if you want. I liked the 3/4 look so left the tabs undone.
Another thing I enjoy about this blouse is the slit on the side. It's at the perfect place so that I can tuck from front of the blouse into my shorts, but leave the back hanging out. I love that! Sometimes if a shirt doesn't have that slit, and you want to tuck in the front but not the back, it leaves this awkward triangle shape and makes people focus onto your nether region. Not pretty.
The leather shorts I meantioned are buttery soft. Makes me want to rub myself the entire day. But that's too weird... so instead, I walked with my hands in my pockets the whole day. The inside is the same buttery softness as the outside. Awkwardness averted ;) There are also pockets on the back, which is great so you don't have to wear a thong ;) I hate panty lines lol.
Look from the back. I tried to remember the pose Michael Jackson (RIP) had on the "This Is It!" cover. This is how it turned out. With me trying to snap my fingers. Now, seeing the cover again, the pose looks nothing like this. Fail, lol.