"Why wear a vest? Don't your arms get cold?" Of course they do, but wearing a sweater underneath and long gloves keep me nice and toasty. Work is no longer as cold because I moved desks! This way I won't have to bundle up as much, and a sweater + vest was just the right temperature.
I recently had a huge haul off the wholesale website,
Wholesale7
. It's based in China, and features Chinese and Korean fashion for cheap prices. Though sometimes their items are hit or miss, and you really have to ask questions and scrutinize each item, I think at the end it's worth it. Especially so, because a lot of the styles on the website would be hard to find in Vancouver, if not for a gigantic marked up price. I'll be doing a large post on the items that I got last week in a later blog post, but here is a preview of the vest I received.
F21 sweater; Tweed vest from Wholesale7 (here); Fingerless gloves (here); H&M belt;
Talula shorts; Seduction leggings; Jessica Simpson Capry boots (here)
Here's an up-close shot of the tweed. The vest is entirely lined, and is a thick material. There's one button in the middle to hold it closed, though I think it looks good both left open or buttoned up. I belted it to give it more interest. The brown fingerless gloves I also bought from
Wholesale7
and I pulled them over-top my sweater in a scrunchy style.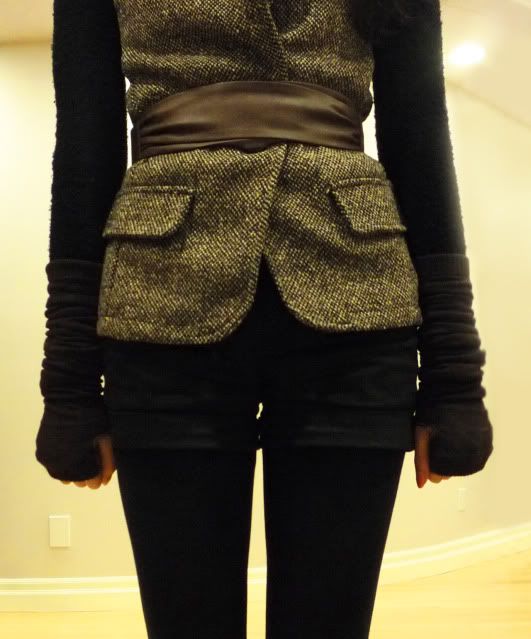 I love this flattering slit on the side. It allows the wearer so much more shape so it doesn't flatten out my bum! The only thing I don't like is that the the pockets are not real. They are just flaps to give the illusion of pockets. Kind of ridiculous and a waist of material... I didn't know they were faux at the time, but what can you do. I'm still going to wear it regardless.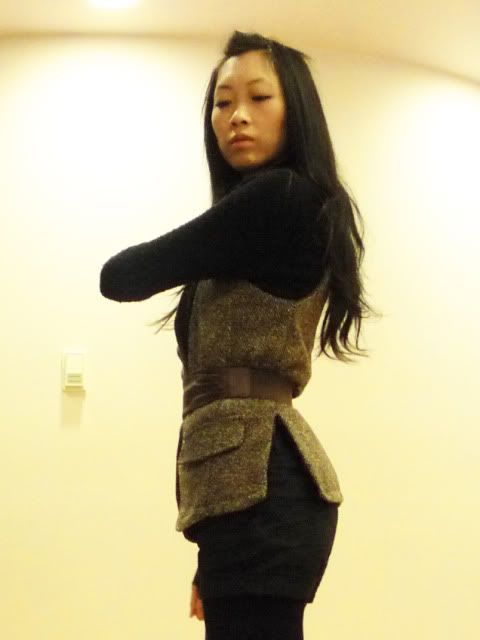 Finally one more pose before signing off. Sorry I look tired. Took these right after I got home from work~