On Saturday I spent another day at Vancouver Fashion Week and holy geez was it worth it! Some of the shows were just SPECTACULAR and it was an experience that I definitely want again. I would love to thank VFW's producer, Jamal Abdourahman, for his kindness and this wonderful opportunity :)
There were so many designers showcased for Day 5:
[click to go to available pictures of each; my favourites in
bold
]
Lauren Elaine
By The Beach
Jardin By Bharbara Renault
Misu A Barbe by Misu Kim
Belinda Liu
Hachung Lee
Jose Jhan
Rajadano
Maria Peligro
Claire O'Connor
Sadaf
Jung Eun Lee
Rimi Nayak
A long lineup right? The majority of photos in this post will be of my
favourites
. Hachung Lee, Sadaf, and Jung Eun Lee really wowed me with their shows. Hachung Lee; with his Korean inspired designs, Sadaf Tahvildarzadeh; with her beautifully exotic Iranian dresses, and Jung Eun Lee; with her crazy after-hours outfits.
First up was Lauren Elaine's swimwear. Nice designs but nothing really stood out to me.
The designer in the middle, Lauren Elaine.
I wasn't a big fan of the next designer's pieces because it was 'hippie chic', so I left to wait for my friends to arrive in the lounge. After everyone arrived, we went into the next show, featuring Barbara Renault's brand Jardin. Her pieces were geometric-jungle-potato-sack-princess-esque, which you can see in the recap pictures below.
The designer on the right.
Misu A Barbe followed with some whimsical knitwear. The banana headbands were a cute touch. These designs are definitely Korean inspired and I can see petite Asian girls wearing these sweaters, lol.
Belinda Liu, I had pegged as one of my must-see designers but I didn't get such good pictures of her collection. Sadface. Her Spring/Summer 2012 collection however is on her
website
so you can take a look at better pictures there.
Now onto Hachung Lee!! The designs were VERY Korean. Most of the pieces I can totally see the members of Big Bang wearing, lol. Especially the white hooded one! G-Dragon anyone? XD
The designer, Hachung Lee receving a bouquet :)
There must have been an Oriental theme going on because the designer next, Claire O'Connor had womens wear that reminded me of origami. Whether it was her intention or not, the pieces were quite angular and paper-like.
Overall I think her collection was very beautiful :)
Iranian designer Sadaf Tahvildarzadeh showcased beautiful, flowy, exotic dresses in lovely bright colours. All of them wowed me and left me wanting to see more!
FINALLY, last but not least, the best show of the night, Jung Eun Lee! Her show was shocking, sexy, circus-ish and lady gaga-esque. The models that wore her pieces seemed like they were all on acid, lol! They walked, crawled, fell, twisted, turned, danced and more! They had such an 'i don't care' personality yet displayed the risqué-ness of her outfits. It was a real pleasure to watch.
The show started off with a chair in the middle of the end of the catwalk, and one model, crawled to the chair, wearing these SUPER broken-ankle-waiting-to-happen heels. She sat there chair-dancing in giant handcuffs & chains the entire show.
Then came the action!
Just when my camera was uber close to running out of battery :(
Yep, they were crawling :)
Risqué outfit. That's an elephant he's holding onto, lol.
The male models helping the dancer up off her chair in those ridiculous heels.
Finally, the designer, Jung Eun Lee (hands up!) came out and danced to Michael Jackson's Thriller with her modelling crew :)
Ahhh, what a great show. We even got to go backstage and take pictures with Jung Eun herself :)
Sorry these photos are grainy. My camera died and I had to use my crappy blackberry cam.
Also with the kick-ass models :)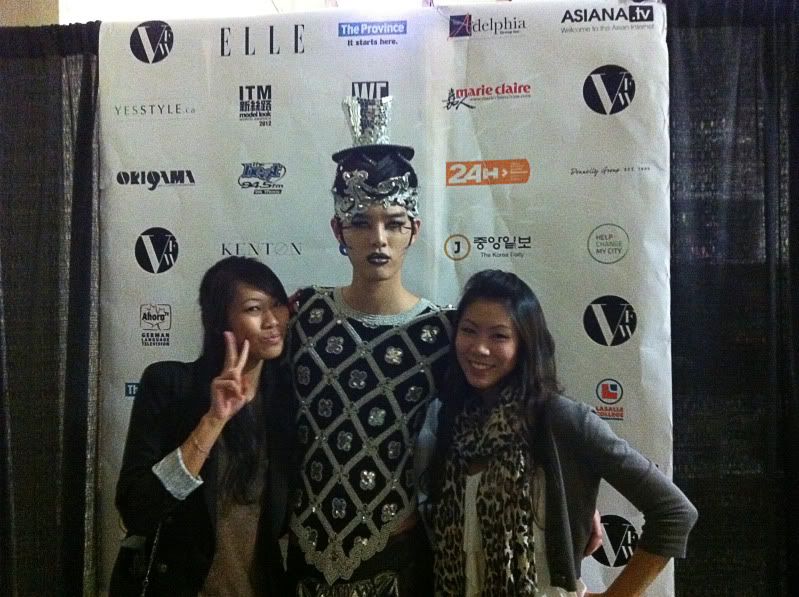 Me, Jake, and Emi