You've probably seen in my other postings that I'm a minimal accessorizer. I usually don't wear much jewelry besides my white gold heart bracelet and my diamond necklace, both gifted from my boyfriend. For earrings, sometimes I change them up but most of the time they are easy-to-wear studs. I definitely don't spend much on costume jewelry because I think they're so disposable per trend, so I like to stick with timeless and classy pieces.
That's why I love these
amethyst earrings from Anjolee
. They are
princess cut
, which in my opinion, are one of the most flattering ways to show off a gem stone. This cut is so timeless and can be worn for any occasion. Versatility- oh how I love thee.
Princess Cut Amethyst Earrings c/o Anjolee
They're also the perfect size. Not too big - which can look gaudy- and I'm not G (unit) enough for that! Not too small either - so eyes are still drawn towards the gem's sparkle. Finally, they are also white gold (like all my jewelry) so it matches all the other pieces I usually wear.
I wore these last week with my purple vest in my work it look, and I got so many compliments on my earrings at work. I love when outfits and accessories match!
The best part about getting these stud earrings from Anjolee is that they are entirely customizable. I chose the exact style, metal type, gemstone, and size just with a few clicks. Besides an
amethyst
stud, you can choose from
peridot
,
garnet
,
sapphire
(my favourite!),
citrine
,
topaz
, and of course-
diamond stud
. And instead of white gold, there is yellow gold and platinum available.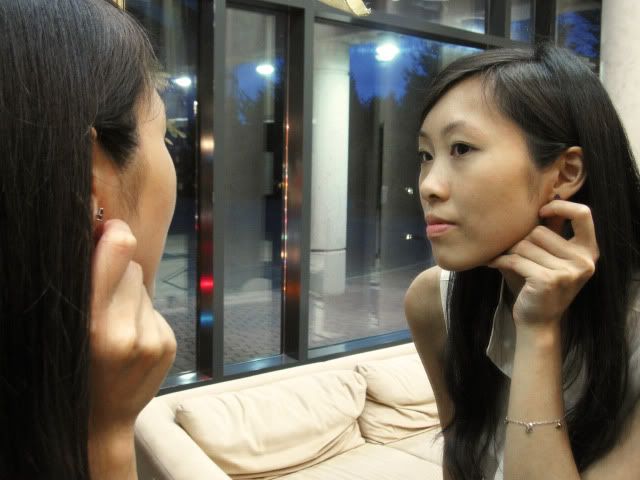 If you haven't already gotten a Christmas gift (or birthday, or anniversary!) for your lady, you should definitely consider the jewelry they have on Anjolee. In addition to beautiful
diamond stud earrings
, they have necklaces, pendants and bracelets. The selection and customizability of jewelry is a huge plus that you won't be able to find in many stores, and they hand-craft it straight per order. Nest on my wishlist would definitely be a pair of
diamond studs
.