Hi everyone! Hope your boxing day was relatively fruitful!
Mine was relatively low-key: woke up at noon, went to the Shoppers a couple blocks away for 15 minutes, then strolled around the mall for 2 hours with no real aims to purchase.
But here's what I did score on my 2 hrs and 15 minutes of 'shopping' time!
Shoppers was having a BIN sale. Everything in the bin was 99c (and under) and final sale. Another clearance section had stuff from 49c to $1.99. Ya, I pretty much raped that bin. This was my haul of the day! For only $20!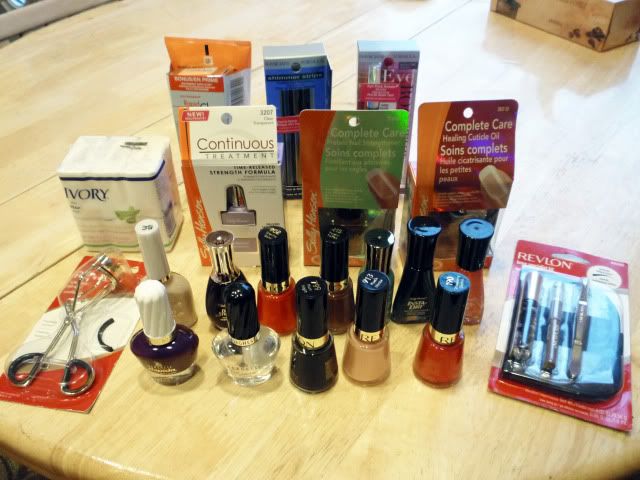 Shoppers Drug Mart purchases - $20
IVORY simply aloe bar soap 3 pack
REVLON brow specialist kit (53293)
REVLON cushion grip lash curler (11001)
NEUTROGENA rapid clear foaming scrub + acne spot gel 2 pack
PHYSICIANS FORMULA eye booster in deep brown
PHYSICIANS FORMULA shimmer strips eyeliner trio
SALLY HANSEN complete care protein nail strengthener
SALLY HANSEN complete care healing cuticle oil
SALLY HANSEN continuous treatment time-released strength formula
Up-close of nail polish colours
REVLON nail polish
-plum night 799
-totally toffee 415
-craving coral 902
-peach nectar 913
-strawberry electric 190
BORGHESE nail polish
-puro clear B111
-vigneto B012




SALLY HANSEN nail polish
-instadry blush rose 4917-16
-instadry jumpin' jade 4917-22
-xtremewear lime lights 4860-25
-diamond strength vixen 4032-04
-advanced futuristic 2764-39
Old Navy was having a 75% off sweaters. I purchased this white waffle one in an XL (yes, for myself!). It was $40, down to $10, then I had SPC with gave another 10% off, so it was around $10 after tax.
At H&M, I found his a-line skirt. It'll be great for work. It also came with a bow belt (yay!) which justified its $15 price tag. Also at H&M I found this brown equestrian-esque 2-buckle belt for $7. I also had an H&M gift card left to use, so after using that, in total I spent only $2.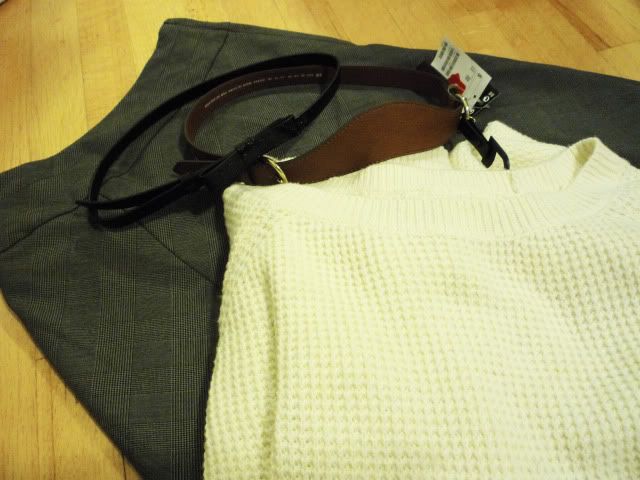 H&M and Old Navy purchases - $12
Basically... I spent under $40. Quite an accomplishment :) I'm very happy with what I got and I didn't stress myself out with deals this year. Go me!