Red, white and blue go so well together. It's too bad that it always reminds me of national flags though... But oh well! My coworker said I looked really British today- probably because of the Union Jack. Funny because I thought I looked very fourth of July, haha.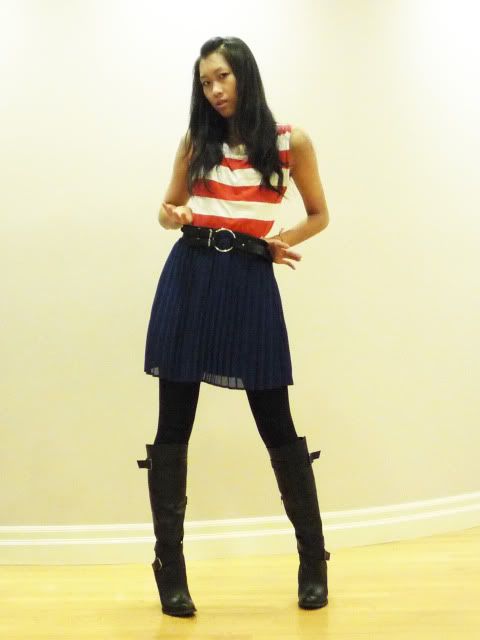 H&M top; Motel 'Sally' skirt (here); Seductions leggings; Dibi 'Looped' belt; Aldo 'Doiley' Boots (here)
I got this new equestrian-esque riding belt on
PLNDR
. It was only 5 bucks! The only thing is that it's a little bit too big :( I already put it on the closest belt holes on both sides, but it's still too big. I don't know if I can alter it to make it any smaller. I had to wear a cardi on top and belt on top of it. One because it was too cold without the cardi, and two, to make the belt fit better.
This blue skirt by Motel is a recent bold colour favourite. For only $10 from my
DJPremium haul
, it was SUCH a steal. Lucky for you, it's
still available
for $26.50 on DJP right now, and considering the original price is $70, for the current price it's still a good buy!
I think I might replace the big circle ring with a smaller circle ring since I can detach it from both sides of the belt. It might make the belt fit better. See how the circle ring kinda dips down at the front? That's cuz it's too big. Not really a big deal, but I still wish it was a bit smaller.