I went downtown yesterday on some business and decided to do some browsing as well. I wandered into UO not expecting to find anything, but when I got upstairs they had a decent sized sale section. I found 3 things (all in small and zero, yay!) and went to the fitting room to try them on.
The fitting room was huge! Haha :) It was pretty much 3/4 the size of my room...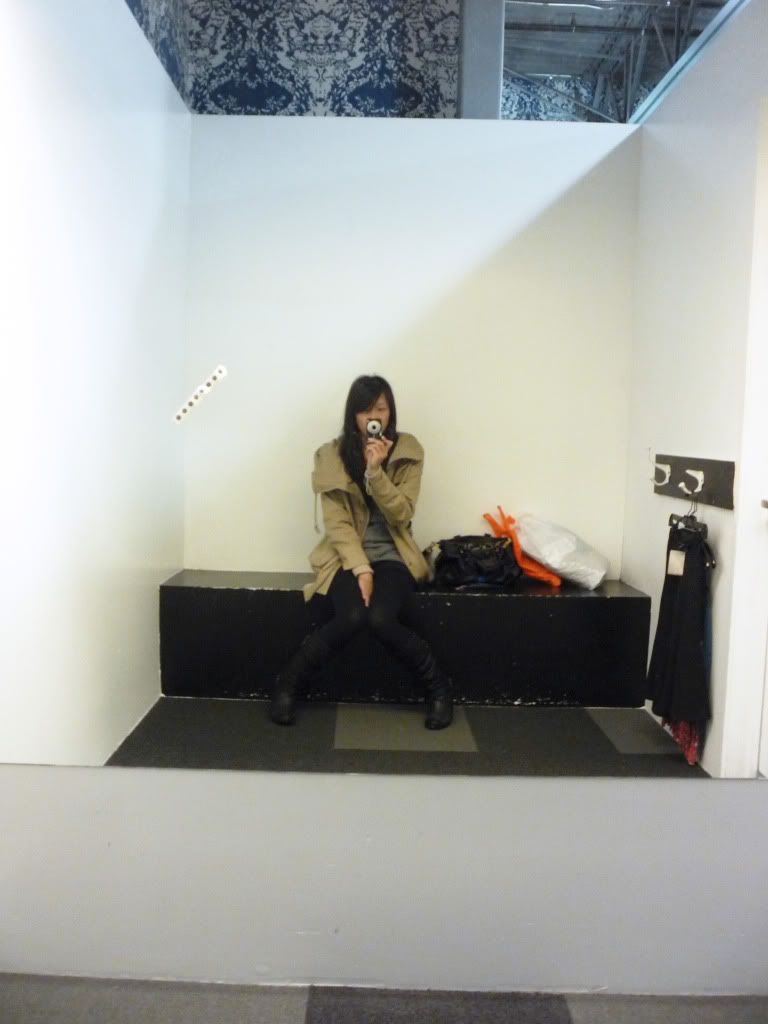 Giant UO fitting room
I took advantage of the giant mirror by taking some outfit shots!
Here, I'm wearing this cargo 'safari' jacket I got last year off Yesstyle.com when it was on sale. It is MakMaks/Cocostar brand. Most everything I buy off Yesstyle is this brand because I find the sleeves are longer compared to other brands from Asia. I love this jacket because it's oversized and has giant pockets which I can stuff everything into. The sleeves are also cuffed at the end adding extra length. It also has a generously sized hood great for Vancouver rain. The beige colour in the stock pics is the one I'm wearing. It's actually more like a khaki/tan colour.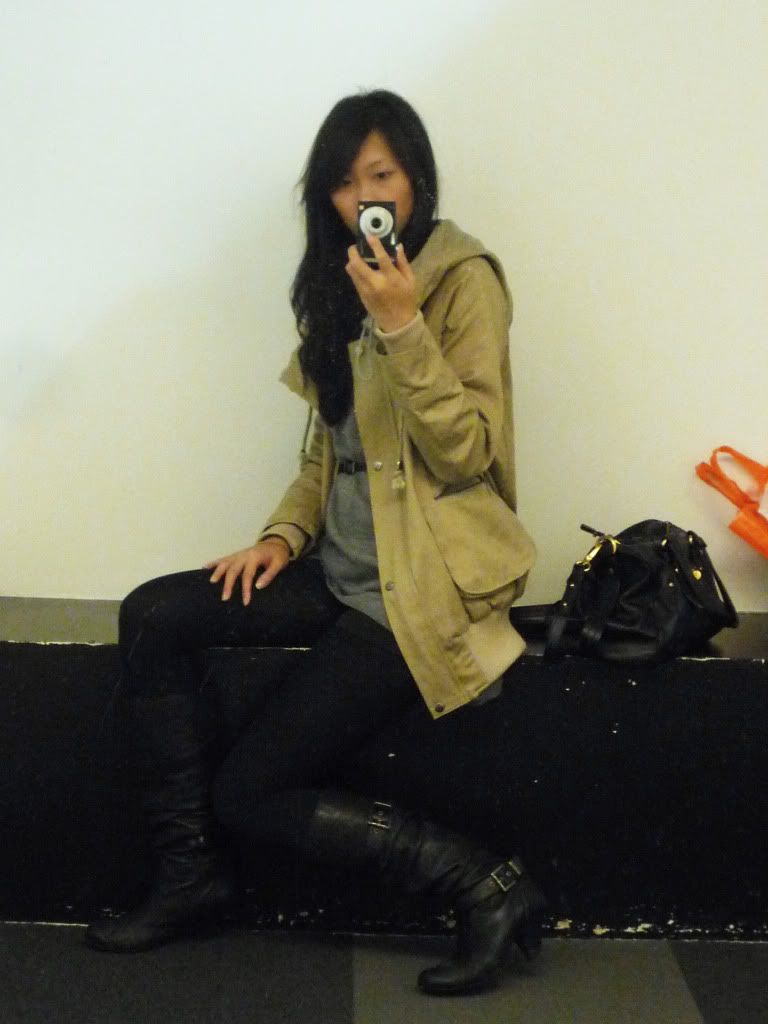 MakMaks/Cocostar Cargo Jacket; Leggings; JS Boots
MakMaks/Cocostar Safari Jacket: Beige (irl: khaki), Black, Khaki (irl: green); Yesstyle: $72.00
Inside I'm wearing an H&M Sweater and a belt that came with a Dynamite romper. Again with my trusty MBMJ Bag.
H&M Sweater; Dynamite Belt; MBMJ Totally Turnlock Shifty Satchel Bag
I ended up purchasing all three things that I tried on: 2 fringe tanks and a high waisted long skirt.
I wasn't wearing suitable bottoms with the fringe tanks so I had to tuck them into the skirt. Shame you can't see it cuz it's really cute. The fringe is about 6 inches long at the bottom of the tank. The high waisted long skirt is really not that long; it comes right at my knees. My thighs are long eh? Haha. I think it'll look great with booties.
The tanks were $9.99, down from $39 and the skirt was also $9.99, down from $69.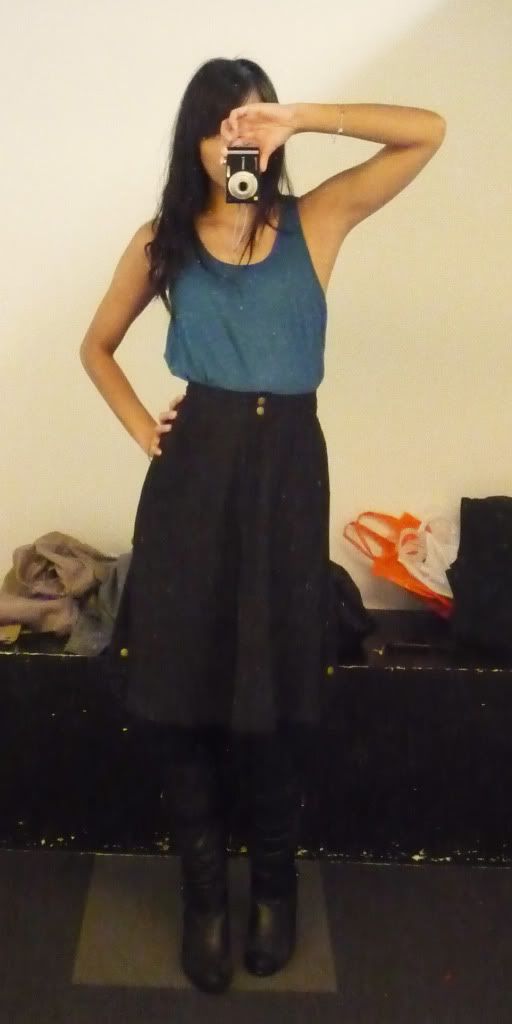 Staring At Stars Fringe Tank Top: UO $9.99; ByCORPUS High Waisted Long Skirt: couldn't find online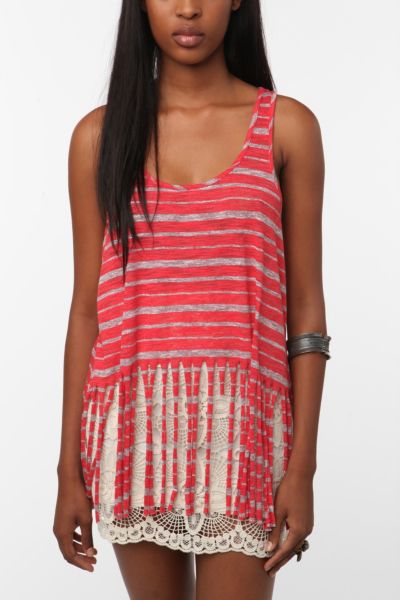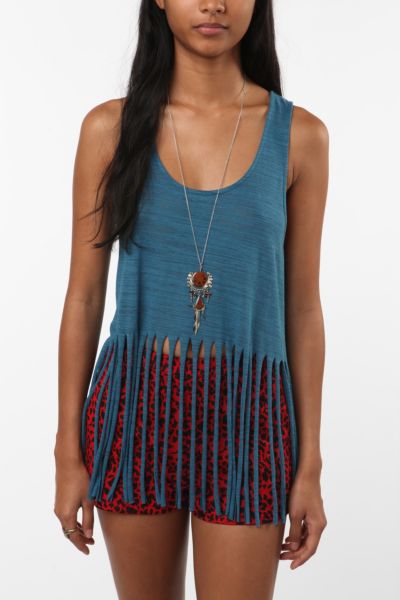 Staring At Stars Fringe Tank Top: UO $9.99
I also bought some stuff from Giordano because they were having a BOGO Free sale, but I'll show you that another time :)