Seems like I haven't been here in a while!
It's getting so much colder now that it's October... I broke out my trusty Mike & Chris hoodie :)
I love that it's poofy at the bottom because of the ruffle rouching hem- reminds me of those strawberry marshmallows~
Mike & Chris Bailey Hoodie, Suzy Shier scarf, H&M shirt & belt, Seduction leggings, JS Boots
I decided to make good use of my 25% off coupon from this post and went to H&M to find some of the stuff I had on my Fall list. When I checked-in to the Pacific Centre location on my Foursquare app, lookie what I found!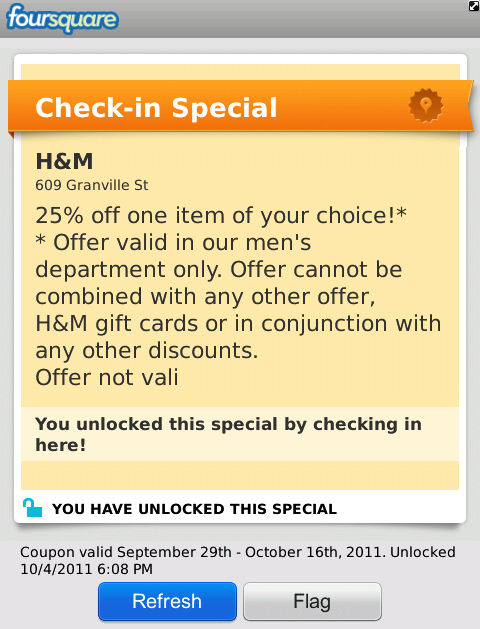 When you check-in at H&M Pacific Centre, a check-in special will show up. There will be a 25% off coupon for Menswear that expires on October 16th! All you have to do is show the sales associate when you're at the counter and they'll take the discount off for you :)
Besides that good stumble-upon, H&M was so fail for me because I couldn't find anything on my list!! :( Oh well, here is some of the stuff I bought instead. I say 'some' of the stuff because the other pictures are inappropriate to post (haha!). I didn't find much... nothing really caught my eye. Must not have been my day...
BUT- I did find this structured box crop top! The size 4 fit like a charm (yes, even my shoulders) and I think it'll look great with shorts & tights- pretty much my go-to bottoms. It's entirely lined (yay!) and 100% polyester. It has a nice texture to it. I like.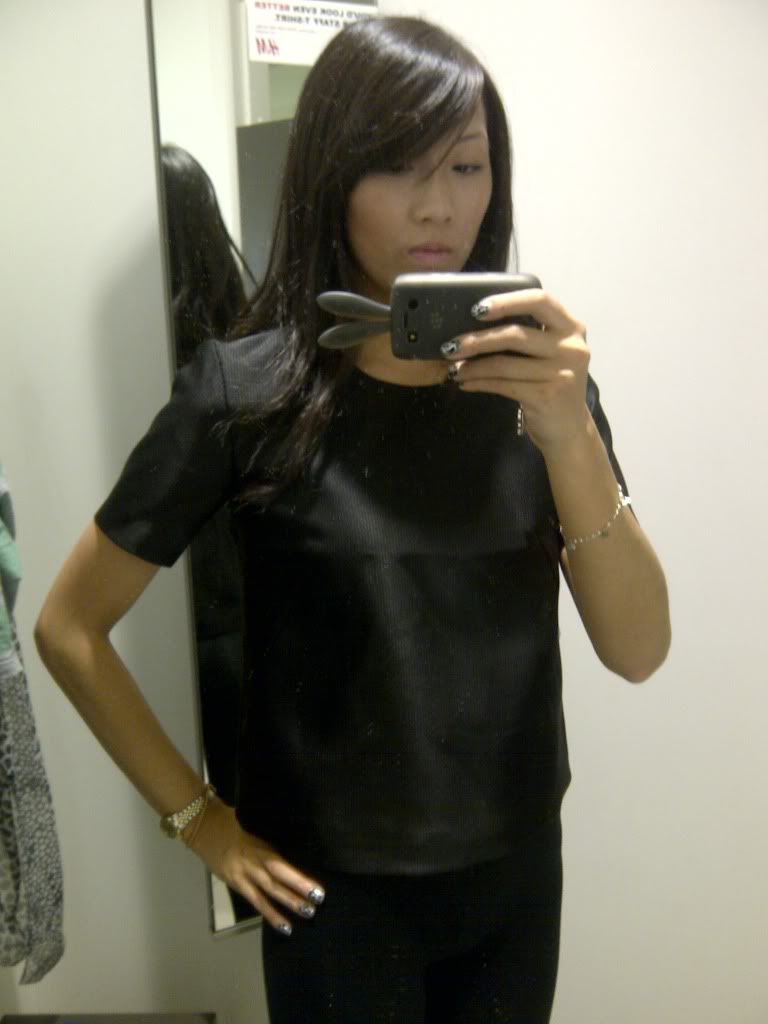 H&M Structured Crop Top, Sz 4, $34.95 (couldn't find online)
On the other end of the spectrum, I found this meshy, glittery, flowy, batwing top. It's cream with gold flecks here and there. This is a size small (didn't find anything smaller) but I think it fits nicely. I'll have to wear a nude cami underneath or else you'll see my bra like in this picture. lol.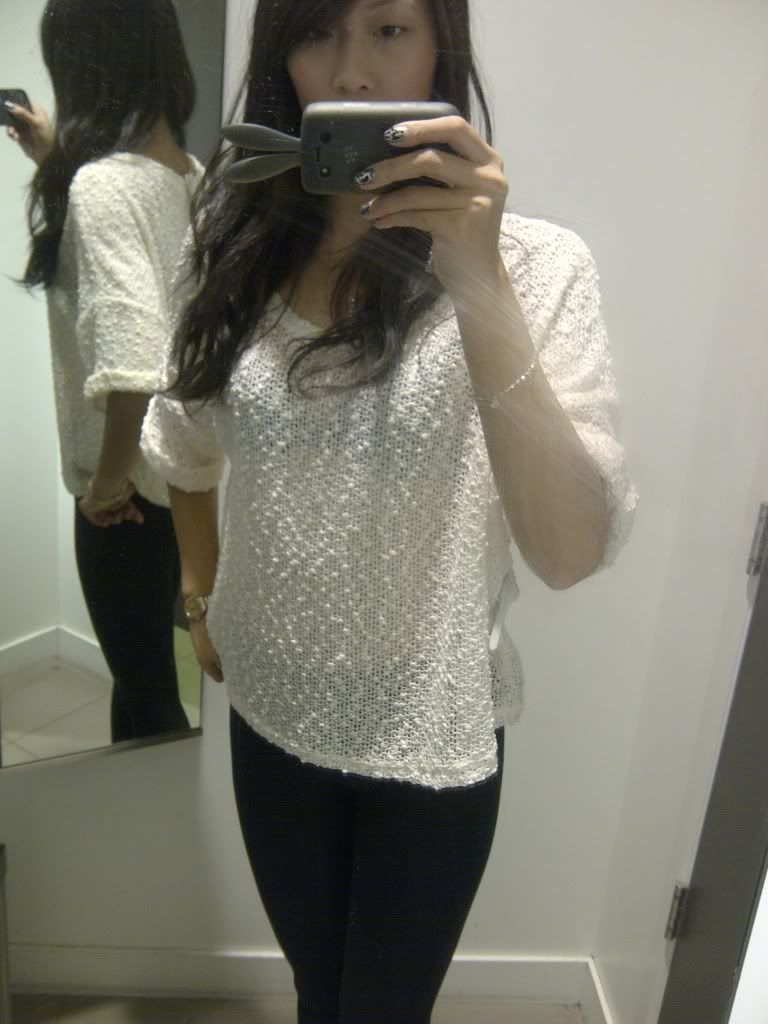 H&M Cream Mesh Top, Sz Small, $34.95 (couldn't find online)
I also stopped by Zara with some coloured denim in mind. They had a
great assortment
of green, blue, red, tan and grey denim as part of their TRF line~ I grabbed the green one because I couldn't find any of the royal blue in my size :(
This is a size 2. It fits... just okay. The rise is a little lower than I'd like (*ding ding long torso*). I usually prefer something around 7-7.5" but this one is like 6". The pockets I liked because they were right smack in the middle of my butt cheeks, and the material was very stretchy I was able to get them over my calves. HOWEVER. Look at that length! I don't know why it's so short. I swear it's like 30" inseam or something... they looked like ridiculous too-long capris on me. This is the length they should be ROLLED UP! Sigh. I left without them and their $39.90 price tag. Mega fail.
Zara TRF Coloured Trousers, Size 2, $39.90: Link Here (Excuse my bandaids :P)
Still on the search for some royal blue denim...