I recently wrote about how I went to a
Vancouver Bloggers meet-up
where I received some
nail polish
from one of the sponsors,
nailpolishcanada.com
.
One of the nail polishes I received is this Soulstice Spa nail polish in a silvery, metallic colour called Crete.
Here is the description from
NailPolishCanada
:
Polish Name:
Crete - Vegan Polish by Soulstice Spa
Size:
12.7 mL / 0.43 oz
Brand:
Soulstice Spa
Collection:
Soulstice Polish
This product contains
no formaldehyde, Toluene or DBP.
About Soulstice Spa:
Soulstice Spa nail colours are 100% vegan and cruelty-free (verified by PETA) & free of the toxins dibutyl phthalate, formaldehyde and toluene. We've tested Soulstice at Nail Polish Canada and found them to be long lasting and beautiful.
Before I go on with a review, here are some factors I consider personally when finding a good nail polish:
- very pigmented colours (less coats)
- fast drying time
- little to no chipping
- long-lasting wear
- beautiful colour
Usually with environmentally-friendly products, there is always a trade-off between quality/durability and health. The best quality, no-chip, long-lasting, nail polishes of steel always come with bad chemicals, and the vegan, toxic-chemical free ones don't have the same durability. This is only the general consensus, but how does this Soulstice vegan polish faire?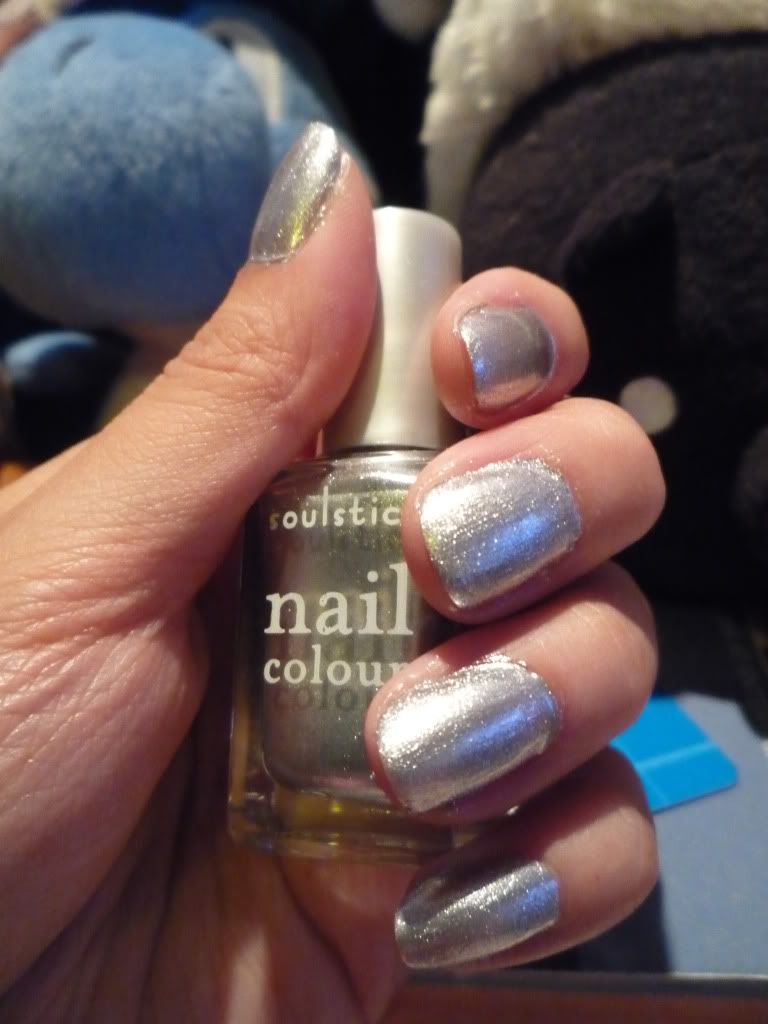 Pigmentation: I expect to put on 2 coats of nail polish no matter what brand. 1 coat was still not opaque with the colour Crete, but 2 coats was suitable as expected. 10/10
Drying Time: I expect to wait 7-10 minutes between coats. Crete did not dry quickly. I waited about 20 minutes between coats before it looked/felt dry enough to do the next coat, and then another 20 before top coat. 5/10
Little to no chipping: I expect chipping a week after my manicure, with normal wear and tear. 3 hours after I did my nails, I went to play pool and arcade games with a girlfriend, pretty normal for us. In the midst of a Japanese ghost arcade game, my pinky nail chipped. 5/10
Long lasting wear: I expect a good nail polish last up to 10 days. I can't comment on this yet since I haven't worn it long enough. This'll require another update ;) For now, since it's related to chipping, I'd give it a 7/10.
Colour: This factor is a bit more subjective. I actually really like this metallic colour. It has a nice iridescent gleam and is very eye-catching! 10/10
The silver is a bit too tin-man for my style, so I put a layer of China Glaze black crackle over it. Much more wearable now~
Overall, I'd say for a vegan polish, it's pretty good. I give it a 7/10.
Nice colour and good pigmentation. It does take longer to dry than normal polishes and chips with rougher wear, even with top coat. If you're not as rough with it as I usually am, I'd say it would be a decent polish, free of toxic chemicals.